CTG-10 COATING THICKNESS DIGITAL GAUGE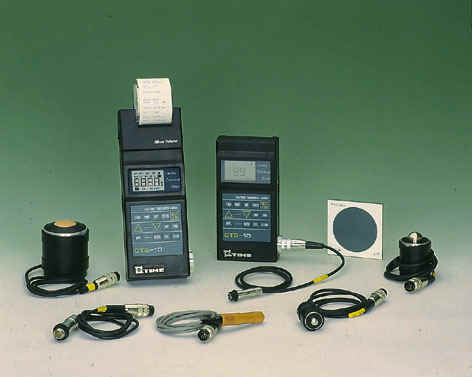 Application
The gauge provides two kinds of coating thickness measurements,brutalizing the characteristics of eddy current or of magnetic resistance.By fixing an appropriate probe(eddy current probe or magnetic probe),you can detect the thickness of insulating coating on non-magnetic conducting substrate or non-magnetic coating on magnetic substrate non-destructively. By special calibrating method,the thickness of chromic coating on copper substrate or non-magnetic conductive coating on insulation substrate can be comprehensively applied to manufacturing or metal processing profession as well as in commercial inspection or examination sector.
Main Functions
Ten types of probe are available to cover a whole range of specialist measurement requirements:F-probes(ferrous) and N-probes (non-ferrous)
Four methods can be used to calibrate the COATER
Special feature:calibration through coating(CTC)
Five different statistical parameters can be calculated,displayed,and printed
Two measuring modes can be selected:continuous and single
Two operating modes are provided:direct and application/bath
The memory has a storage capacity for up 3000 readings
Histogram can be printed out for further analysis of measured values
Limits can be set,outside limits warning will be given
Automatic or manual switch-off
Easy deletion of wrong settings or readings
Retrieval and print out of stored readings if desired
Buzz prompts next step of operation
Low battery indication
Errors during operation indicated by buzzing and error codes on L.C.D.
Instrument can be used with or without the integral/removable print
Main Technical Data
Measuring range:0-5000 µm
Guaranteed tolerance:±1% H +1 µm(where H = N nominal value)
Min.substrate thickness:F1-probe 0.5mm/N1-probe 0.3mm
Min.diameter of substrate:F1-probe 3mm/N1-probe 6mm
Operating temperature:0-45°C
Power source:4×1.25V NiCd batteries
Dimensions:270×86×47mm
Weight:650g
For more information contact us
---
TT220 INTEGRATED PORTABLE COATING THICKNESS GAUGE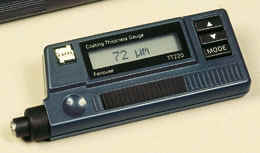 TT220 is an advanced integrated coating thickness gauge distinguishing by its very compact size,high accuracy,wide measuring range and simplicity of operation. It combines the ferrous F-probe and a data processor in a single unit, automatically computes the thickness of non-magnetic coating on a ferrous substrate by utilizing the properties of magnetic induction.Both continuous and single measurement modes are available.
Technical Data:
Operating principle: Magnetic induction
Measuring range: 0 to 1250 µm
Minimum resolution: 1µm
Measuring accuracy: mean uncertainty one point calibration ±(3%H+1) H =nominal value
Measuring accuracy: mean uncertainty two point calibration ±(1-3%H+1) H =nominal value
Operating temperature:0 to 45°C
Power source:2×3.6V NiCd batteries
Dimensions:150×53×22mm
Weight:120g
Optional:printer
TT230 INTEGRATED PORTABLE COATING THICKNESS GAUGE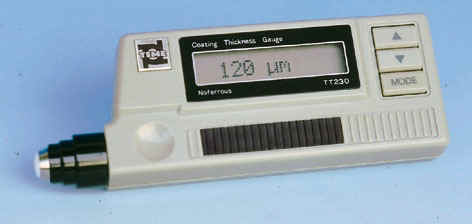 TT230 is used to test non-ferrous metal coating thickness.
For more information contact us
---
TT100 DIGITAL ULTRASONIC THICKNESS GAUGE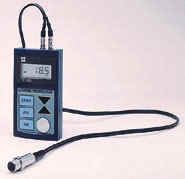 TT100 is a hand held microprocessor controlled thickness gauge specifically designed for measuring the thickness of metallic and non-metallic materials e.g. aluminum,titanium,plastics,ceramics,glass and other good ultrasonic wave-conductor as long as it has parallel top and bottom surfaces.
With uses in many uses in many areas of industry TT100 can perform precise measurements on various types of raw materials,components parts,and assembled machinery.It can also be used to monitor all types of pipes and pressure vessels for loss of thickness due to corrosion.
TT100 is extremely easy to use, after a simple calibration to a known thickness or sound velocity the gauge will give accurate readings in millimeters.sound velocities for 5 different materials can be pre-set and 10 thickness readings can be stored in the memory.
Technical Data:
Display type: 4-digit LCD
Minimum display unit:0.1mm
Measuring range:1.0mm-225.0mm
Lower limit steel pipes:minimum Ø20×3mm
Display:±0.1mm
Sound velocity range:1000-9999m/s
Operating temperature:-5°C to +40°C
Frequency: 5MHz
Update rate: 4Hz
Power supply: 1.5V AA alkaline cells(2pcs)
Battery life: 250 hours with one battery set
Dimensions:126×68×23mm